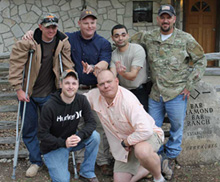 First let me say to all veterans who read this, Thank You, For Your Service!  It is because of you that we are free today.  Because of your sacrifice Lone Star Warriors Outdoors, a Texas non-profit organization (LSWO) is offering Hunts and Fishing trips throughout the year to Combat Injured Veterans from Afghanistan and Iraq (OEF and OIF).  This is our way to say Thank You for your physical and mental sacrifices to our freedom and country. Most of all, we want to provide an atmosphere where you can talk to others that have been in your same position. As warriors that have seen the horors of war, many of us do not have people to talk to so we hope to provide that on these hunts. Most tell us when they leave that they feel like family with the others there, one of the things they miss from the military.

Many of you were avid hunters prior to the military; some of you might have hunted a little and yet others may never have hunted.  These opportunities are for you all.  Every day new ranches want to offer a hunt for 3 warriors, another for 5 warriors and the list goes on.  As we finalize the details of the hunt with the land owners, we will post the hunt on the Calendar of Events tab of this page for you to see. 

If you have never been a part of a program like this, you are missing something!  This is a time where you not only get to hunt or fish, but you get to spend time with others who support everything you do and consider you modern day heroes.  It is also a time when you can talk to others who have been through the same things that you have and simply a time to relax.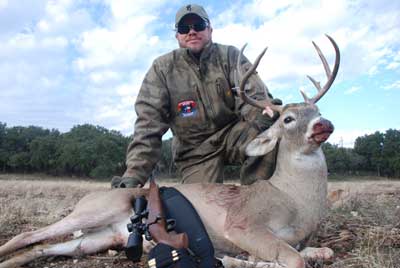 To be selected for one of our hunts or fishing trips we need you to download an application.  This application is important for several reasons.  Some of the ranches want to know who is coming and would like a bio from you so they know a little about you when you get there.  We also want to keep a bio from you as we may use it on the web page. The application allows up to know more about you, medical needs, limitations and hunting experience. FOR THOSE WHO ARE STILL ACTIVE, you MUST have a doctor's signature on the application stating that you are cleared to hunt.  Without this signature, we cannot accept your application.   

Once again, thank you for your service to this great nation and for your sacrifices.  We hope that you will take the time required to fill out this application. It is the only thing standing in your way to have a good time.
Why Do We Only Offer These Trips to OIF and OEF Veterans?
I have been asked several times about this and several people have gotten really upset about it. There are several categories of veterans, those that served in Peace Time, Other Wars and those who were not injured. The reason for selecting these only is two fold. The first is finance. We operate on donations and have to limit our focus to ensure that we can accomplish the mission with the funds that we have. Second, I am one of these guys and I can identify with them. We focus on finding new friends and allowing that bond to be built up so they may pick up the phone and call when things get rough. If I were to take an individual that lost a leg due to a car wreck along with guys that lost legs in battle, the bond would not be there, so we decided to focus on Combat Injured Veterans.
With that said, I think all deserve this time, just not together. The Vietnam War was totally differnt than the current wars, thus that needs to be a hunt on its own. Eventually as funds get better I would like to offer hunts for Vietnam vets, but right now we do not have those funds. Give it time. I hope this gives some insight as to why we do what we are doing. Iraq and Afghanistan are two different wars, but at the same time they are the same. Terrain, tactics etc are so simular and most of these guys have fought in both and it makes sence to include both.
"I would like to thank Lone star warriors outdoors, for the wonderful opportunity this last weekend. The hunt was a very relaxing and enjoyable one. However this was like no other hunting experience I've ever had. I was surrounded by very caring Christian people that were always there to talk, and all night if need be. This weekend was a healing step for sure.

And once again thanks to everyone involved. "
Eric Smith, SFC United States Army (ret)
Links
Sponsor Links
Like Us