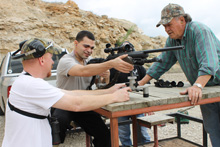 Lone Star Warriors Outdoors has been created to help the Wounded Warrior to reconnect with the outdoors, whether it is fishing or hunting or other adventures. We need your support to help make this happen. We need funds to get these warriors out in the woods or on the lake. Any size donation is appreciated.
What Do Your Donated Funds Go Towards?
Your donations are needed to get these Warriors in the woods or on the lakes. Unfortunately it is not as simple as that. Before we get them to the outdoors, we have to coordinate transportation and pay for fuel. One trip to South Texas can cost upwards of $600.00 per Warrior, after renting a van and paying for gas. After we pick them up we usually have a meal (once selected the Warriors do not pay for anything, we cover it). When finally at the ranch, we cover bullets, food for 3 days, drinks and anything else needed that the ranch does not have. A normal hunt that has lodging already with not many things that we have to purchase can cost around $2000.00. . So as you can see, your donations are needed to make this program happen.
Lone Star Warriors Outdoors has no paid members and no expenses, so 99% of your donation goes directly to helping Wounded Warriors.
Download our Donation form: DONATION FORM
If you would like to donate, please send checks to:
Lone Star Warriors Outdoors
Attn: Chris Gill
112 Hummingbird Lane
Whitehouse, Texas 75791
To donate Via Credit Card, Please call 903-253-5604.
Lone Star Warriors Outdoors - A Texas non-profit organization
Tax ID 45-5240432
"This was my first hunt. I was a little nervous about having a rifle in my hand. It was the first time since the war. I never thought I would be interested in waiting for a deer to walk by. I was wrong. It was a thrill to get in the woods and to do something that Americans have done since before this country was founded. I cannot thank you enough for introducing me to the sport of hunting. This will become my new hobby."
U.S. Army Soldier - Retired
Links
Sponsor Links
Like Us