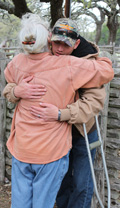 LSWO started because of people contacting us wanting to take a few warriors on a hunt. We are always looking for locations where we can take 3-5 warriors at a time to hunt or fish. Many people inquire about these opportunities but not all follow through enough to make it happen. If you have ever hosted warriors, you will know the joy you have from it. You will see the bond that they make with each other and the bond they make with you. For the first time in a long time these warriors are free, free of hospitals and free of people looking at them and wondering what happened. They let loose and open up to you in ways that you could never understand without being there. You get to hear first hand war stories as I have not met many that do not want to tell you what they went through.
The other great advantage is that by offering a hunt you are actually helping many of them recover. The biggest injury to the modern warrior is physiological, PTSD or Post Traumatic Stress Disorder. It is something that many will live with for the rest of their life, but one way to get better is to talk about what they went through, and when they get together, they do. They will laugh at some stories and cry at others, but during this time they are healing, getting things out that they have held in for so long. That happens only when they are brought together in a relaxing atmosphere such as a hunting camp.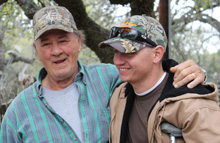 The biggest requirement that we do have is lodging. There must be a place that will hold the warriors and drivers as we just do not have the funding at this point to offer hotel stays.
Basically what we need is a location. If you have land and want to host warriors , then send us an email or pick up the phone and let us know what you have to offer. Some of the considerations that we are looking for are lodging, is food included, are you set up for wheelchairs, and maybe terrain. Terrain is important to know as when the guys are selected we need to know who to look for. If you have a location with a lot of large rocks, then we have to rule out wheel chairs, crutches and possibly canes. We want to provide the best hunt possible for these Warriors so please give us as much information as possible and we will contact you to firm up a time and the details.
Fishing Opportunities?
Many of our Warriors enjoy fishing as well. This is another great opportunity to meet with the guys, get to know them and thank them for what they have done. If you have a boat and a place to hold a weekend of fishing or possibly even a day let us know how many you can handle and any other details, and we will work on getting it filled.
By far the most common sense organization that I have seen. This is a boots on the ground group who continuously gets it done everytime and is a worthy group that needs more people involved with the opportunity to help our deserving veterans. Thank you for what you have done for not only myself, but my brothers.
Tim Lindeman Sr (United States Army Retired)
Links
Sponsor Links
Like Us