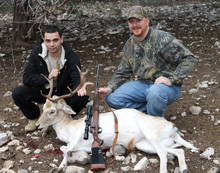 Our mission is to take as many Wounded Warriors on a hunting or fishing trip as possible. If you are interested in participating in one of our hunts or fishing adventures and have been wounded or injured in Afghanistan (OEF), or Iraq (OIF) please fill out the following application. We need as much information as possible. Additionally we need a Bio and a picture or two.
FOR ACTIVE DUTY PERSONEL ONLY - You must have a doctor sign this application stating that you are medically cleared to hunt. Without this signature we cannot process your application. Those not on active duty do not have to have a doctor's signature.
Please give as much information as you can and follow the guidelines for the bio. We might put some information about you on the website. In no way will we use you or any information to advertise without your written consent.
We need you to email the application, bio and pictures to Chris@lonestarwarriorsoutdoors.com.
Please Download, fill it out on-line, save and email back to us. Return email is on the application.

"Lone Star Warriors Outdoors, you have been so good to us... My husbands face was complete shock when you handed him his brand new .308 and full camo. You will never know the ripple effect that you have on the warriors and their families lives. Thank you from the bottom of our hearts. ~The Doggetts "
Links
Sponsor Links
Like Us